Membership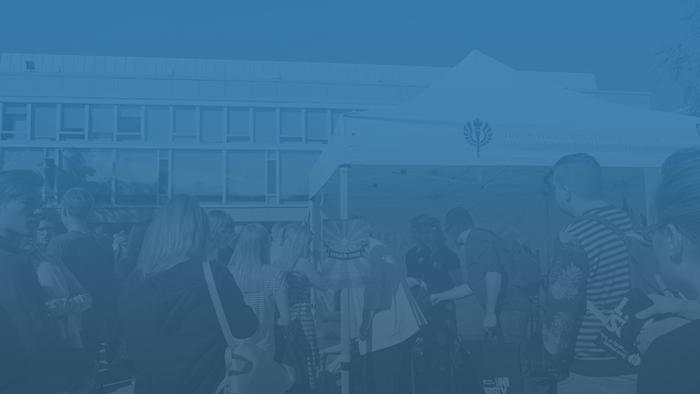 Joining the Student Union
► Exchange students: Membership of the Student Union is voluntary but highly recommended. The membership fee is 55 euros for the whole academic year or 27,50 for one semester. You will get an invoice from the International Office after university registration. The membership comes with many great benefits, which are listed below.
► Degree students (including double-degree students): Paying the membership fee is mandatory for every student pursuing a bachelor's or master's degree at the University of Turku. When registering with the university, you will simultaneously join the Student Union.
► Post-graduate students: Paying the membership fee is voluntary. The membership fee for post-graduate students is 37 euros, and you get many of the same benefits as degree students. More information here.
Benefits
As a member of the Student Union, you will get a student card which grants you several useful discounts:
TYY also offers its members...
Additionally, the Student Union hosts many events and publishes the Turku Student Magazine, which members can have delivered to their home.
Getting started:
Enjoy your stay and Welcome to Turku!
Upon your arrival, TYY will provide you with some material that you will hopefully find useful during your stay here in Turku.
Student Union membership for post-graduate students
Student Union membership is voluntary for post-graduate students. If you wish to join, you can pay the membership fee in the Oili registration service while registering for the academic year or by contacting disco@utu.fi. After you have paid the fee, you can order a plastic student card from the Frank website or use the post-graduate student card from Tuudo.
The benefits for post-graduate students include
In addition, some private companies (such as pharmacies, swimming pools and restaurants) grant discounts to those presenting a post-graduate student card. You can see a summary of the benefits in Frank's online service, for example.
More information on the membership fee
The TYY membership fee for the academic year 2023-2024 is 55 euros for degree students and 37 euros for post-graduate students. The membership fee no longer includes the FSHS healthcare fee. As of 2021, the healthcare fee is now paid to Kela. Read more here.
Your membership fee is used to improve study arrangements, make the university community more equal, defend students' financial aid, bring students from all fields together in traditional student events, and support the important work of student organisations. Did you know that TYY is also one of the owners of student restaurant company Unica?
In its new strategy, TYY focuses on its core activities: influencing and advocacy, promoting community spirit, service provision, and co-operation with interested parties. By focusing on these activities, TYY can make sure that student life is a once-in-a-lifetime experience for its members. TYY's vision is to be the most responsible student union in Finland at the most appealing university in Finland. 
Refunding your membership fee
You can request TYY to refund your membership fee for a few different reasons. Click here to read more and fill in your application.