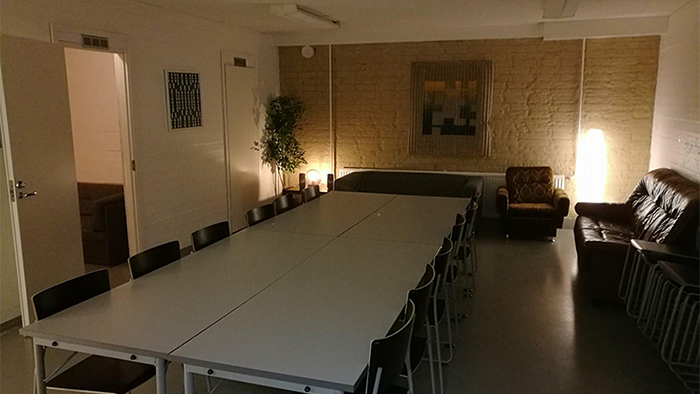 In the basement of the Q-House (Q-talo) at Nummenpuistokatu 2 is the small and inexpensive Vähä-Heikkilä. It is suitable venue for events such as meetings and small theme parties. For bigger events we recommend the upstairs ballroom.
---
Making a reservation
To make a reservation, click on "Add event" at the bottom of this page and fill in the form. You will get an email when your reservation is confirmed. This may take a couple of days, so please make your reservations as early as possible. 
You can pick up the keys and sign the rental agreement at the TYY Service Point.

Office Secretary
tyy-kanslia@utu.fi
TYY Service Point, Rehtorinpellonkatu 4 A, 1st floor
20500 Turku
---
Pricing
Rates for Vähä-Heikkilä reservations starting at 4 pm and ending at noon on the next day:
Student organisations and members
| | |
| --- | --- |
| SUN-TUE* | WED-SAT (and the days before national holidays) |
| €50 | €65 |
Misuse and cancellations
Using the venue in a way that violates the rental terms results in a fee of €200.
Neglecting cleaning (even if you have only reserved the venue for an hour or two) results in a fee of €200 + cleaning costs.
Note that you can cancel your reservation up to 4 weeks before the event. If the reservation is cancelled 1–4 weeks before the event, you will be charged 50% of the rent. If the cancellation is done less than a week before the event, you will be charged the full price.
Vähä-Heikkilä is only available to student organisations and their members.
*Sunday prices also apply to all common holidays.
---
Additional information
The premises feature
4 tables
30 chairs
sofas and armchairs
a set of speakers
a microwave
a refrigerator
a coffee maker
cleaning supplies
The renter may use the kitchenette in the hallway, which has running water.
---
Links
Please read these rules and instructions:
If you need food for your event, consider Unica Catering.
---
Accessibility
The venue is located in the basement and can only be accessed via stairs. There is no elevator. There is a handrail on the stairs and the stairs are straight. The floor of the staircase room is mostly dark grey and white in colour. The walls are red.
---
Contact
Questions about the premises:
tyy-tilat@lists.utu.fi
Reservations:
tyy-kanslia@utu.fi