Campus Chapel (Kampuskappeli)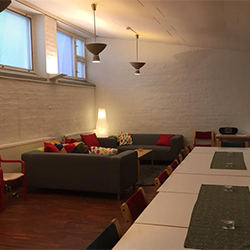 The Campus Chapel (Kampuskappeli) is owned by the joint parishes of Turku and Kaarina, but TYY members and organisations can use it free of charge. The Chapel is located on the ground floor of Student House C (Ylioppilastalo C, Rehtorinpellonkatu 4 C).
The Campus Chapel may be reserved for suitable and respectable purposes. For example, it is great for meetings. There is also a kitchen in the premises.
Using alcohol or drugs is prohibited at the Chapel, and it is an inclusive and safe space free of discrimination. This means that all events hosted at the Chapel must be open to all, and users of the premises must follow the principles of a safer space.
After using the Chapel:
wash the dishes; don't leave the dishwasher running by itself
take out the trash
put the tables and chairs in their original positions
Reserving the Campus Chapel
Click on "Add event" at the bottom of this page and fill in the form. Please specify what you are going to use the Chapel for (write it in the "additional information" field).
You will get an email when your reservation is confirmed. This may take a couple of days, so please make your reservations at least a few days in advance. Also check your spam folder.
Reservations are primarily only accepted for the current month and next month. We want the premises to be available to as many people as possible.
You can pick up the keys and sign the rental agreement at the TYY Service Point during service hours.
Office Secretary
tyy-kanslia@utu.fi
tel. +358 44 796 1067
TYY Service Point, Student House A (Ylioppilastalo A), ground floor (Rehtorinpellonkatu 4 A)
Additional information
There is a kitchen in the premises. It features a refrigerator, a dishwasher, an oven, a stove, a coffee maker and a kettle.
There are chairs and sofas for about 20 people.
Accessibility
Contact
University Chaplain Mia Pusa
mia.pusa@evl.fi, tel. +358 40 341 7296