Student House study room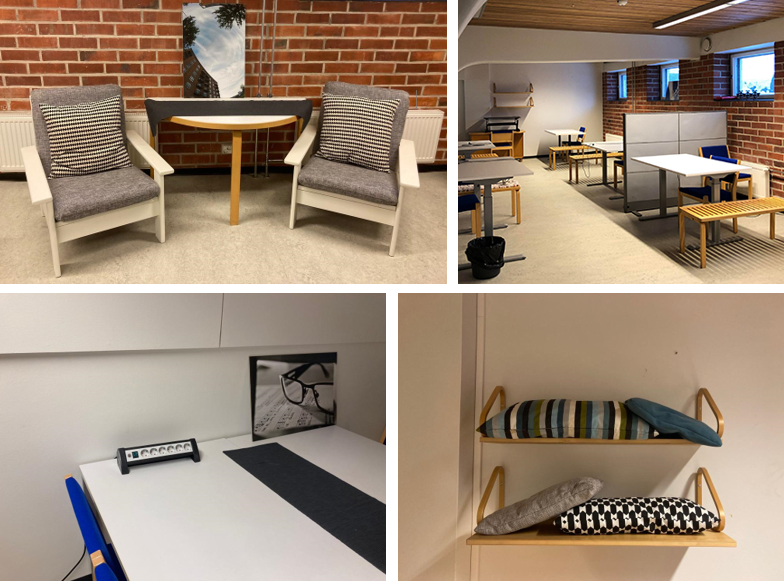 Are you in need of a quiet room where you can read, work on your thesis or meet with a study group?
Welcome to the study room in Student House B (Ylioppilastalo B)! 
The study room is located on the second floor of the Student House (Rehtorinpellonkatu 4 B).
The room features five workstations (chairs and adjustable desks), two armchairs, and an additional set of chairs around a table. At the end of the hallway there is also a kitchen with a coffee maker and a kettle as well as a toilet.
The room is only intended for studying and working. You may not reserve it for meetings or parties. The room can be used every day from 8 am to 10 pm.
---
Making a reservation
The room features five workstations which can be reserved individually. You can select all the workstations in the reservation calendar to instantly see which ones are free and make your reservation.
If you want to reserve the room for a group, reserve all five workstations. That way your group can discuss freely in the room.
Reservations are only accepted for the current month and the next month. We want the room to be available to as many people as possible.
Note that reservations are only confirmed on weekdays between 9 am and 4 pm. No confirmations are done in the evenings and weekends. Please make your reservations at least a few days in advance. Also check your spam folder.
You will need the confirmation to get into the study room. Confirmations are usually sent out in 1–3 days after making the reservation.
You can find the workstations' reservation calendars here:
---
Contact
University Chaplain Mia Pusa, mia.pusa@evl.fi, +358403417296
– – –
Office Secretary
tyy-kanslia@utu.fi
Rehtorinpellonkatu 4 A, ground floor
20500 Turku